Discount Sale Floor Covering
Take advantage of Colonial Decorators' in-store savings on surplus stock floor coverings. Browse the selection of flooring options from vinyl, carpet and tile to hardwoods and more.
When you visit our store, be sure to ask about our Overstock, One-Week Sale Specials and Discontinued products.
---
Overstock
Overstock specials are floor covering products we are overstocked on. Take advantage for great savings.
---
One-Week Sale Specials
One-Week-Sale Specials are flooring products we select and put on sale at discount pricing for one week only.
---
Discontinued
Discontinued specials are flooring products that have been discontinued by the manufacturer. These can include individual style options or complete lines of floor cover styles that will no longer be produced.
NOT SEEING WHAT YOU NEED? We have many floor covering options, in stock, which have not yet been added to this page and which are marked down for discount pricing; so if you do not see what you need, do not hesitate to call to ask if we have it on sale. Call 541-479-3192.
Armstrong Woodland Relics / Discontinued Sale!

Color: Storied Farmstead
Retail Price: $7.85 per Square Foot
Sale Price: $4.75 per Square Foot
NOTE: This is a discontinued flooring and inventories are limited. Call 541-479-3192 to inquire about quantity currently available.
Colonial Decorators has the Armstrong Woodland Relics hardwood flooring in the "Storied Farmstead" color, in stock, on sale and ready for you to pick up or available with installation by Colonial Decorators.
Woodland Relics is a multi-species engineered hardwood flooring composed of hickory, birch and oak.
SPECIES - Multi-species Hickory, Birch and Oak
WIDTH - Multi-width 3˝, 5˝, 7-1/2˝
THICKNESS - 1/2˝
EDGE DETAIL - Micro-beveled edges and ends
GLOSS - Low
BOARD-TO-BOARD VARIATION - Most
INSTALLATION - Float, Glue, Staple
APPLICATION - Below / On / Above Ground Level
WARRANTY - Lifetime Limited Residential, 10-Year Limited Commercial
FINISH - Armstrong™ Flooring Lifetime Finish

NOTE: The pictures below are representative of what this flooring looks like and the color tones and hues can appear on device monitors different from the flooring's actual color tone appearance. We recommend looking at the flooring in our store before making a purchase decision.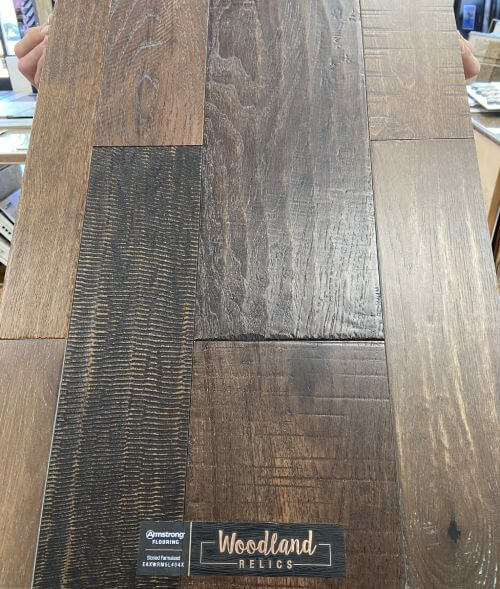 Armstrong Woodland Relics Storied Farmstead Engineered Hardwood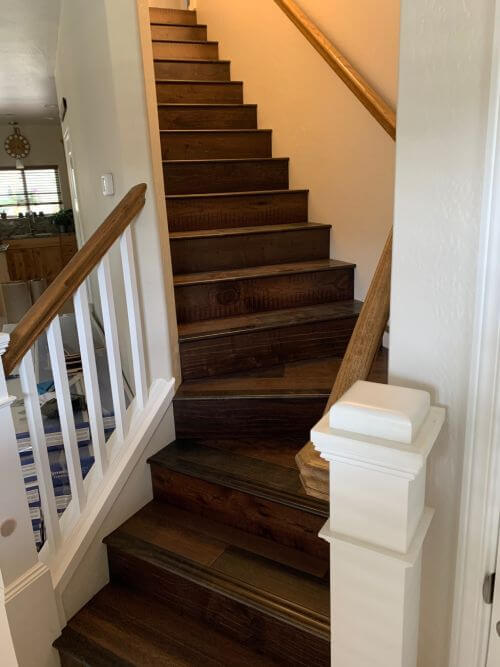 Armstrong Woodland Relics Storied Farmstead Installed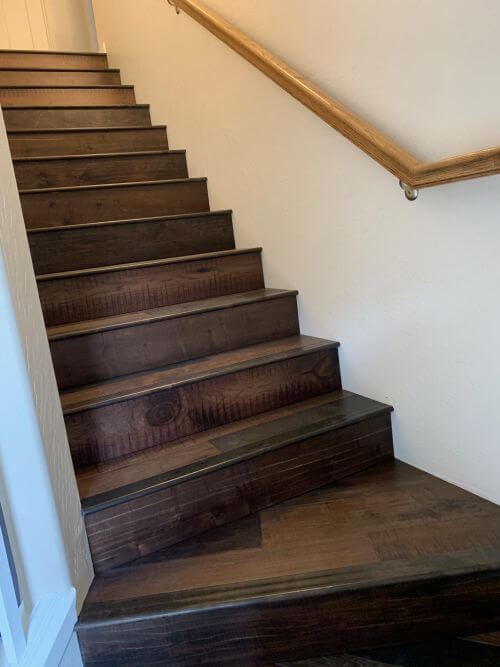 Armstrong Woodland Relics Storied Farmstead Installed
Armstrong Woodland Relics Storied Farmstead Installed
---
You might find remnants that match the flooring Colonial Decorators installed for you years ago and purchasing at discount may be of value if you ever need to repair a small area or later decide you might want to add the same flooring in another room or in a future add-on. Come and take a look before it is gone.